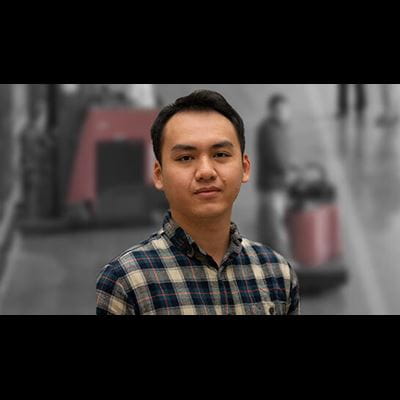 Department: Value Analysis Value Engineering
Location: Greene, NY
University: Binghamton University
Year: Masters Program
Major: Mechanical Engineering

What attracted you to the opportunities available at The Raymond Corporation?
In addition to being close to Binghamton University, Raymond offered a variety of co-op positions with various responsibilities in different STEM fields. As a curious learner, I value the opportunity to explore and work with different engineering departments.
Describe what your experience has been like thus far at The Raymond Corporation.
Everyone at Raymond has been friendly and helpful in my transition into the role. I've taken the opportunity to learn engineering industry standards and provide valuable contributions to my team.

How are you applying what you study to your job here at Raymond?
As a co-op student, I can apply my creativity and engineering skills through design improvements to existing Raymond products and systems.
What career advice would you give to others hoping to secure a future co-op/internship?
I would tell students to apply regardless of current skill set, experience, or grades. What is important is expressing your passion for learning because that's what an internship is.
Ready to Join Us?

Built on principles of innovation and continuous improvement, we offer Co-Op experiences with you in mind. Similar to all associates, you will be welcomed into our culture, treated as a valuable member of the team, and given "real" work assignments. There are always colleagues available to answer questions. Your success is a key component of our success at Raymond.