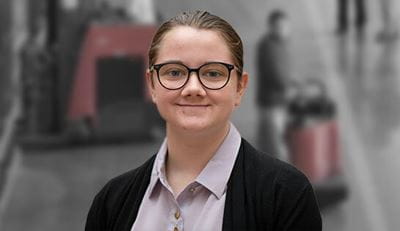 Department: Software Development
Location: Greene, NY
University: University of Pittsburg
Year: Junior
Major: Computer Engineering

What attracted you to the opportunities available at The Raymond Corporation?
Everyone I talked to at Raymond was nice and made me feel like I would do great at every turn.

Describe what your experience has been like thus far at The Raymond Corporation.
I have gotten to work on different projects and deepened my knowledge of coding languages. I also put my problem-solving skills to the test by finding solutions for all sorts of coding problems.

How are you applying what you study to your job here at Raymond?
I couldn't do what I did without learning how to code. In school, I learned a lot about coding, which will be helpful in my career. If I hadn't learned C++ so in-depth in college, I would have never been able to pick up C# as quickly as I did here. My computer architecture classes have also come in handy from time to time in helping me problem solve.
What career advice would you give to others hoping to secure a future co-op/internship?
Work hard to learn what you can. Even things you may think won't be helpful may come in handy in some form. If you don't know and want to know, look it up! Take the initiative to learn something on your own time. That knowledge may come in handy when applying for jobs and interviewing.
Ready to Join Us?

Built on principles of innovation and continuous improvement, we offer Co-Op experiences with you in mind. Similar to all associates, you will be welcomed into our culture, treated as a valuable member of the team, and given "real" work assignments. There are always colleagues available to answer questions. Your success is a key component of our success at Raymond.