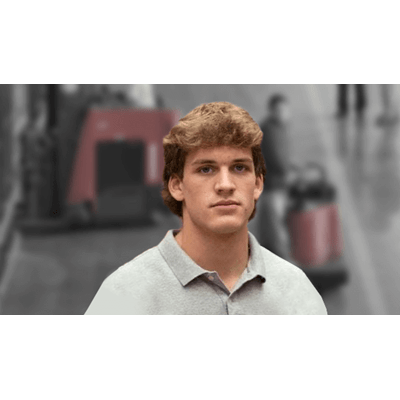 Department: : Logistics and Aftermarket Accounts
Location: Greene, NY
University: SUNY Broome
Year: Freshman
Major: Business Administration/Sales

What attracted you to the opportunities available at The Raymond Corporation?
As a business major, I figured becoming an apprentice at The Raymond Corporation would give me in-person experience while continuing my education.

Describe what your experience has been like thus far at The Raymond Corporation.
My experience at Raymond has been great so far. I've met a lot of helpful people, and my knowledge of business within a corporation has grown tremendously.

How are you applying what you study to your job here at Raymond?
I wanted to learn the ins and outs of a large company and what is needed to be successful. Ultimately, Raymond has shown me the skills and qualities required.
What career advice would you give to others hoping to secure a future co-op/internship?
If you're interested in business, I would recommend a company like Raymond and to move around the different areas, figuring out what you enjoy.
Ready to Join Us?

Built on principles of innovation and continuous improvement, we offer Co-Op experiences with you in mind. Similar to all associates, you will be welcomed into our culture, treated as a valuable member of the team, and given "real" work assignments. There are always colleagues available to answer questions. Your success is a key component of our success at Raymond.